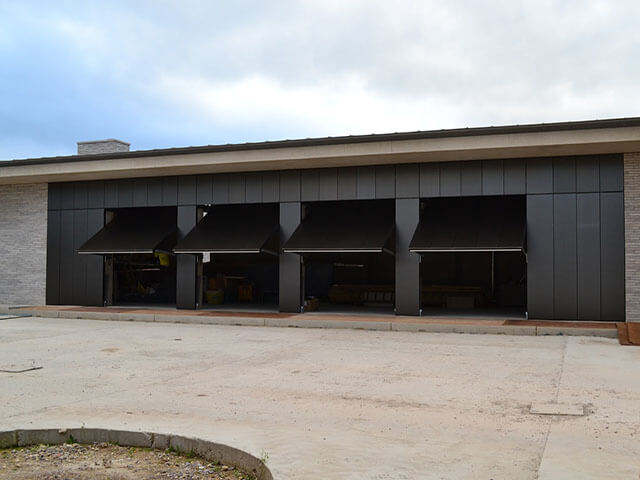 After struggling to find a company willing to undertake such an impressive project, the prestigious London based David Chipperfield Architects contacted us on the recommendation of Hörmann for their bespoke garage door design.
The Design Brief 
The vision was for an impressively large 160mm/sq wide garage area to be hidden seamlessly behind what would appear to be a flush 15m wide x 3m tall bespoke blackened paneled steel wall. Within this wall would effectively be five garage doors, and pedestrian access side doors, with dividing supporting concrete columns between each. The cladding was to run flush with the hand-made face brickwork and the doors should be free from handles or otherwise that would detract from the overall design and look of the final product.
Bespoke Steel Garage Door Design
The cladding design would incorporate an equal gap of approx. 5mm between each of the 62x individual steel panels which would be manufactured and shipped from Germany specifically for the project meaning absolutely no room for mistakes.
Fitting Custom Garage Doors
Considerations such as the weight of the panels in relation the restrictions on the lifting mechanisms, the logistics of exactly how each panel will be fixed, and tolerances to ensure clearance for the doors to operate were reasons why the architects needed a company who could work with them to achieve this. Essentially a company that could design, spec, supply and install Garage Door systems, right through to fixing the steel panels to create the final look.
The Plan
They approached us with what was to be one of most exciting and challenging bespoke clad projects to date. It was identified early on that the door system to be used was the Hörmann N500 open for infill garage doors coupled with the NT500 open for infill pedestrian doors, but then came the many hours surveying the openings, working out the panel sizes necessary to ensure we were millimeter perfect over a 15m wide expanse.
The Solution
We designed supporting structures between and above the door system to which the cladding would be fastened and the doors mechanism and automation could be suspended from the high open ceilings. Every detail needed to be thought about and every eventuality covered. Though the planning finally paid off because although challenging, the Garage Door installation was successful with every panel lined up perfectly.